Who is Phil Marjera?
Brian came home early yesterday because he was achy and his sinuses were bothering him. He seems to have to 'recharge' every few months. He drives so much for his job, it is very wearing on him. His birthday (the big one is next year) is Friday. I accused him of feeling bad because he was getting a year older. He was not amused.
I took my van back to the shop because of the loose ignition and the mechanic replaced the entire thing! Now I have a key to get in the van and one to turn it on. Ken, my brother said he could fix that somehow.
Sean came from school and picked me up at the station. We headed for Wendy's for lunch. Sean sat down and started smiling about something. Here some guy who is on a show with his son on MTV was in there eating (they are from nearby West Chester, PA). The guy was Phil Marjera and his son is Bam (Bam created, produced, directed and stared in the hit MTV show "Viva La Bam", which ran for five seasons. The VLB DVD's are the fastest selling DVD's in MTV history. Keep tuned, as Bam is creating a new animated series for MTV to debut in the summer of 2006.) Do you know these guys?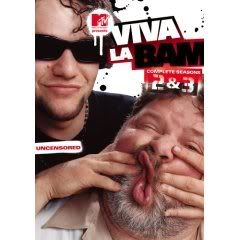 I got Rachael from Germany's stitching round robin from the post office too. Her house is very sweet-she designed it herself. I'll be adding a lighthouse, plus some goodies and send it on it's way in June.
The Stitching blogger question was about participating in stitching 'mysteries'. I have yet to do that, but I love seeing the ones that have come to life. Carol has stitched up some beauties!